Windows DRUTEX Czarnków Trzcianka saw Wągrowiec Margonin Szamotuły Poznan
profile NEEDLE 5 designed by DRUTEX S.A. It is designed for customers who appreciate aesthetics and modernity. Good performance thermal insulation combined with an attractive price offer significant reduction of heat loss in our houses and flats.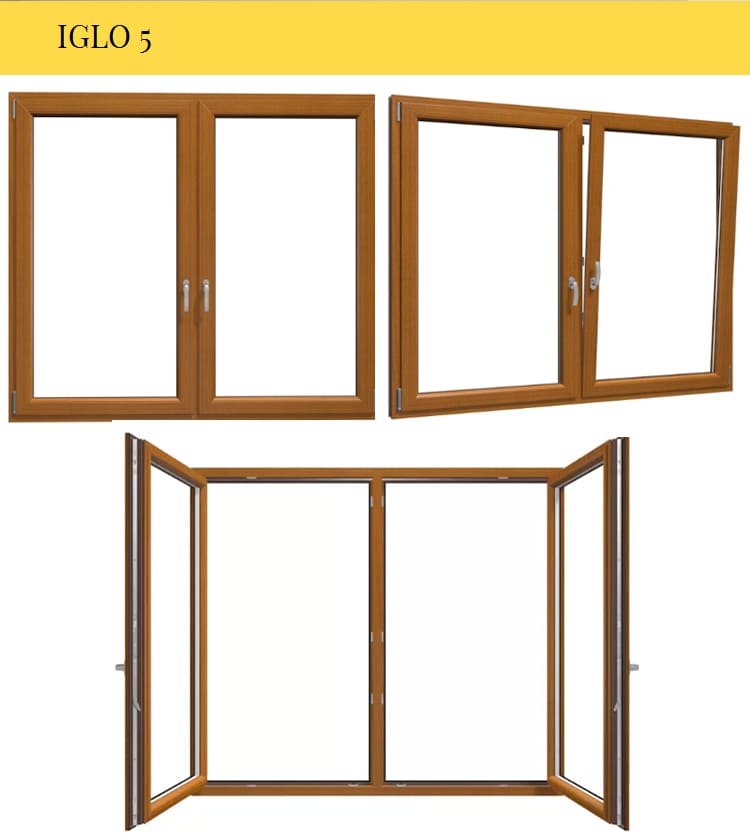 Five-chamber profile design with appropriate sealing glass and frame ensures excellent thermal insulation.
Windows IGLO5 made in the system GL SYSTEM are offered in a variety of shapes, and rounded lines profile the latest trends in the market of PVC joinery.
GL SYSTEM creates the ability to offer customers windows that meet all functional requirements, while reflecting the highest quality in terms of aesthetics.
The system is available in półzlicowanej at a depth of 70mm and 80mm wings.
Features of the construction profile:
Five-chamber profile design and installation depth 70 mm provides excellent thermal protection
and sound
specific shape and rear seals in a special channels and notches provides optimal insulation and long-term use
13 mm distance of the axis of the fitting notch provides optimal protection against burglary,
the possibility of using a wide range of glazing
invisible seals
a large central chamber ensures proper statics
flat interior surface facilitates the correct assembly of the frame
continuous research and development of innovative, They allow us to offer a rich palette of 43 the color of veneers allows any interior space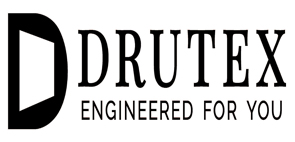 Each window's DRUTEX S.A. They are equipped with standa rdowo in the single-chamber glass unit - glazing, the production of which DRUTEX S.A. uses glass GUARDIAN.
Standard glazing DRUTEX S.A. It consists of a float glass 4 mm thick, the spacer having a width 16 mm and glass miękkopowłokowej type thermofloat thick 4 mm, while the space between the panes is filled with, to obtain proper heat transfer coefficient, gas – Argon.
Standard glazing DRUTEX S.A. It has increased thermal insulation properties of heat transfer coefficient U = 1.0 according to EN-674.
Moreover, the offer DRUTEX S.A. there is full possibility of individual selection of appropriate, other glazing, that it represented more excellent protection against burglary, noise, or xs iernym sunlight.
Operating comfort window depends on additional functions. All types of windows DRUTEX S.A. manufactured on the basis of PVC profiles are equipped with standard envelope ferrule MACO.

Due to the nature of the hardware stand out: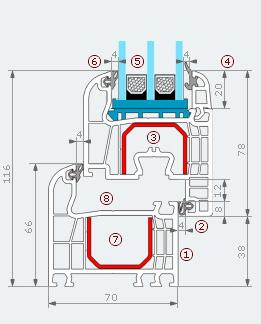 The windows of the function U (tilt) - A window equipped with hardware to allow tilt are also available, on request, version equipped
an additional Burglary-proof latch.
The windows of the function R (casement) – in addition to its standard feature rozwierności also facilitate the closing of the wings, by having the lift wings, which in turn affects firmly on comfort. Fitting with jestw standard one hitch atywyważeniowy, and moreover it is fully adjustable in three planes, What knocks on the correct positioning of the wings. Adjust catches to set the sash clamp to the frame.
Windows function RU (tilt casement) – Tilt-turn windows are equipped with the latest solution, namely microventilation in rozwórce, which unseal the window of 10 do 13 mm, so you gain a faster air exchange; jack wings for easy closing wings, lock mishandling, through which the sash does not disengages from the fitting, which affects firmly on comfort, 1 Burglary-proof latch limiting the ability to balance the open window from the outside. Adjust catches to set the sash clamp to the frame.
Windows Drutex the highest quality at an attractive price. We offer a window mounted in many localities, m.in. w: Czarnków, Trzcianka, chodzież, Wągrowiec, Margonin, Szamotuły, Poznan, saw.
COLOR – DRUTEX
The colors and texture of veneers may vary from.