doors CAL
Presented your company offer CAL a selection of doors, which should fulfill your dream of a wooden door beautiful while technologically advanced.
All the best qualities of wood are retained door "CAL", thus giving confidence, that what is beautiful is also perfectly useful.
Each pattern door "CAL" you choose, It will be the same unchanging high quality and the highest production standards.
Main features of the company's products "CAL":
– heat and savings - First warmest wooden door on the Polish market (thermal insulation even 0,58 W/m2K), suitable for passive houses, today offers low energy heating, meeting standards, that will be required by law in Poland until the year 2021;
– security - Offer models with unique, high resistance class wooden doors burglary (RC3);
– respect for the environment - wood (this noble, friendly and eco-friendly material) we obtain only from forests managed according to the principles of the Forest Stewardship;
– reliability – control at every stage of production ensures maximum strength, and innovative solutions "CAL" in the form of eg. thermal shields podproża make, that of the door you will think only of pleasure;
– "skrojenie to measure" – thanks to technological innovation, we give you the opportunity buildings custom holes, thereby creating a (of our already exceptional door) a unique work of art.
– futuristic technology - Door systems for smart homes (for example,. Biometry, application on the smartphone).
– beauty - Door stunning sophisticated look and perfekcją; bearing in mind, that the door to provide a business card home for many years we have prepared a wide range of designs suitable for both fans of the classics as well as modern finishes such as steel, lacobel, quartz or aluminum.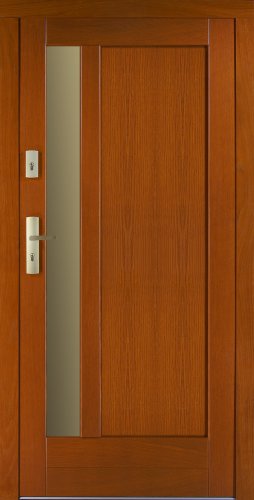 Standard equipment:
– frame laminated timber ( w 100% oak doors oak, w 100 % pine in the pine) section uprights 93×50 mm,
– wing paneled, thick rebated 65 mm, stiles Glulam with two sześciomilimetrowymi obłogami,
– panels of plywood veneered pine or oak, filled with a heat insulating material,
– 2 locks ( including one hook burglar Class "C"),
– aluminum threshold,
– system antywyważeniowy ("French rebate"),
– 3 adjustable hinges in 3 płaszczyznach,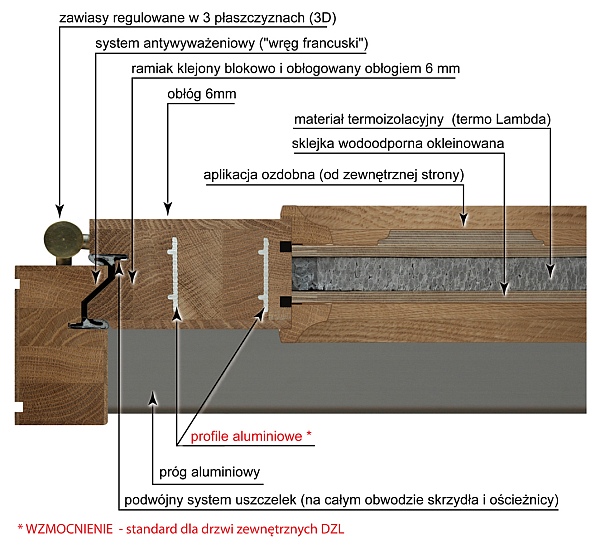 Technical parameters:
– leaf thickness 65 mm,
– termoizolacyjność out = 1,3 W / m2K Door complete reference,
– acoustic insulation Rw= 30-31 dB
– burglary protection: grade 2 PN-ENV 1627/2006, doors with lock three-point,
– glazing on the basis of P4 glass reflex
COLOR – CAL
The colors and texture of the door may differ from the actual.