ECO POLAR PASSIVE PORTA
innovation models Eco POLAR PASSIVE It involves the use by PORTA, technology defines the high standard of external doors.
Doors with Eco collection are made of plywood oak i obłogowane natural veneer.
Presented series POLAR PASSIVE is set the highest quality materials and advancedabove technology,
which defines the exterior doors PREMIUM class in particular for
do passive houses.
The plane wings over its entire surface is uniform barrier against atmospheric conditions.
Leaf frame is made of multi-layer laminated oak additionally reinforced with steel u-bars.
Door surface is protected against weather a three-layer coating system.
The equipment is located warm threshold Porta ThermControl, which is resistant to the formation of thermal bridges.

SPECIAL FEATURES OF THE DOOR
The doors have anti-theft devices in the form of applied
– castles wielobolcowych class 4 ENV,
– rebate
French side of the hinge, which makes it impossible to force the door
– glazing burglar class P4.
CONSTRUCTION
The structure plate is made of laminated oak. Surface
covered with natural veneer. The thickness of the wings 80 mm. Three seals circuit.
Filling feed of high quality expanded polystyrene.
CASTLE
Two multi-point locks, anti-theft class 4 ENV.
GLASS + RAMKA
Two-chamber glass sets U = 0.5 W / m2K.
Frame glazing made of stainless steel.
FRAME
The frame is made of laminated oak multilayer.
French rebate from the hinge side, which makes it impossible to force the door.
THRESHOLD
Warm threshold Porta ThermControl with thermal made of selected dressings
oak, reduces heat loss and prevents water vapor wyraszaniem.
proprietary design, high-quality components (stainless steel) provide durability and high
aesthetics for years.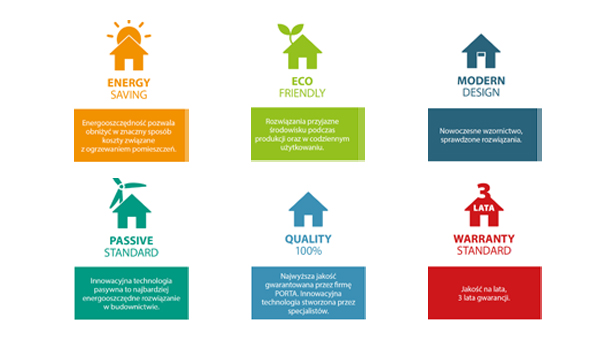 The colors and texture of the door may differ from the actual.