CAL – Classic Collection, Modern Collection
Classic Collection
In view of the lovers of traditional solutions founded Classic Collection, which they are offered entrance doors made of pine wood, or oak. They are characterized by classic design and frame and panel thickness 65 etc. in addition od 1,3 W/m2K.
A simple form is enriched by diverse grooves and panels, and effectively made glazing.
Doors from this collection perfectly presents the spectacular knocker.
Quiet design with distinctive arches refers to known models from years.
In most of the glass door can be mounted attractive stained-glass windows.
Modern Collection
Ignoring the need for followers of contemporary design founded Modern Collection.
Their production has been used classic design Frame-plate thickness 65 etc. in addition od 1,3 W / m2K, and the thickness of the plate 78 etc. in addition od 0,9 W/m2K.
Applied design breaks with the traditional design.
Pine and oak in a unique way combines them with details glass and metal.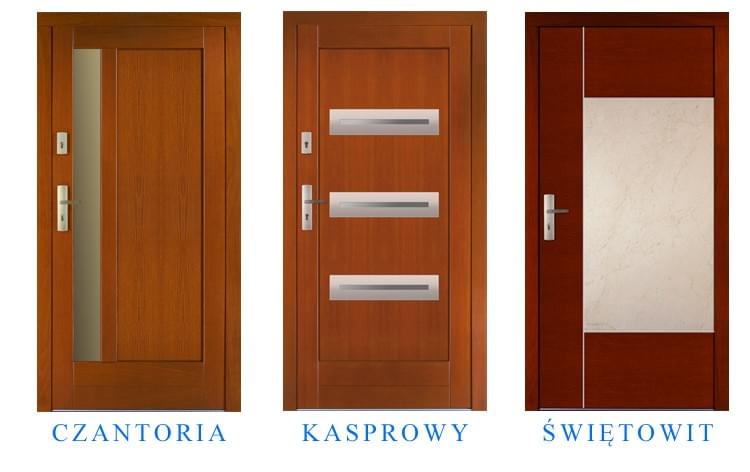 Standard equipment:
– frame laminated timber (w 100% oak doors oak, w 100% pine in the pine),
– wing paneled, thick rebated 65 mm,
– stiles Glulam with two sześciomilimetrowymi obłogami (w 100% oak doors oak, w 100% pine for pine doors),
– panels of plywood veneered oak, filled with a heat insulating material,
– 2 locks (including an anti-theft class "C"),
– double system of seals (on obodzie sash and frame),
– aluminum threshold,
– system antywyważeniowy ("French rebate"),
– 3 adjustable hinges in 3 płaszczyznach,
Technical parameters:
– leaf thickness 65 mm,
– termoizolacyjność out = 1,3 W / m2K Door complete reference,
– acoustic insulation Rw= 30-31 dB
– burglary protection: grade 2 PN-ENV 1627/2006, doors with lock three-point,
– glazing on the basis of P4 glass reflex
The colors and texture of the door may differ from the actual.